Endodontics is the dental specialty concerned with the study and the treatment of dental pulp, which is formed of the nerve and the vascular tissue. Every tooth has inside its root the radicular canals, where there are the nervous tissue (the nerve) and the vascular tissue (the blood vessels). These are the sources of nutritious substances.
In case of deep cavities or any other reasons, this tissue will get infected, requiring an endodontic treatment.
This treatment consists of tooth pulp removal, desinfection and obturation of the endodontic system with specific materials so as to obtain tightness on the tooth apex level.
In our dental office we use the protocole for dental instruments, irrigation and obturation of the endodontic system (the radicular canals) as established on international level by the European and American Endodontics Society.
The endodontic treatment and not only involves the DIGA isolation, followed by the use of rotary instruments for preparing the radicular canals and then their obturation.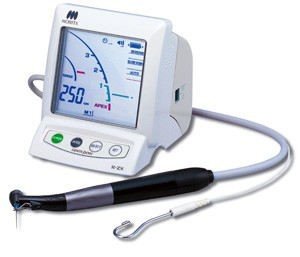 The length of the radicular canal is measured electronically with the morita apex locator. This will provide information as to how deep far the canal obturation should go..
The endodontic system obturation is performed by warm vertical condensation of the gutta percha, a technique based on System B device, a high standard technology in endodontics.