Dental implant is nowadays the only method of replacing missing teeth by fix prosthetics (different from fix dental bridges). It results in getting a denture which is very similar to own natural denture.
WHAT IS DENTAL IMPLANT?
Dental implant is a small size titan screw which gets to replace the dental root. The surgery consists of inserting the implant into the upper or lower jawbone. This is fully pain free.
WHICH ARE THE STAGES OF DENTAL IMPLANT?
1.Preparation: check up, X-rays, CT scan (precise measurements are being done and the implant is inserted virtually), assessment of the patient's general health condition
2.Surgery: the implant is being inserted into the jawbone, followed by 4 up to 6 months waiting time (during this time the implant gradually adheres to the bone, getting integrated into the bone)
3.Prosthesis: a small incision is cut next to the implant and a healing abutment is placed (which allows the aesthetic gum healing), a transfer stump is mounted to take the impression for the coming implant, the final work is done in the dental technique lab. The final dental product is fixed through cementing or screwing.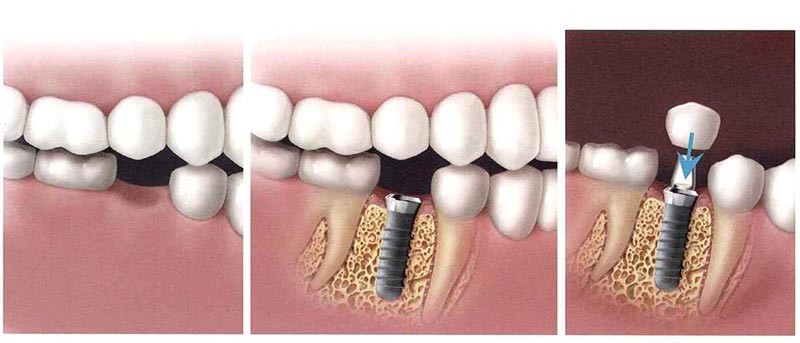 INDICATIONS AND CONTRAINDICATIONS TO DENTAL IMPLANTOLOGY
Dental implants are indicated when there is one or more missing teeth. Contraindications are mainly related to risk pathologies such as diabetic pathology, osteoporosis, etc.
HOW TO KNOW IF WE HAVE ENOUGH BONE TISSUE FOR A DENTAL IMPLANT?
In the check up stage a CBCT shall be done (computer CT scan) based on which the doctor can establish the exact quantity of existing bone tissue and can chose the right implant for you.
WHAT HAPPENS IF NOT ENOUGH BONE?
There are many alternatives to supplement missing bone tissue, whereby the bone necessary for one or more implants is being reconstructed.
ADVANTAGES
1.The replacement of the missing tooth is done via only one crown not 3 like in the case of classical dental bridges
2.The integrity of nearby teeth is not getting affected
3.Patients wearing mobile prosthesis can benefit from fix dental works
4.Aesthetics – dental works on implants look similar to own natural teeth
5.Preventing gingival recession and bone absorption
6.They are the best choice, the success rate is the highest from all other stomatological treatments